Hello!
In this article, I will explain my experiences with the MSI GL65 Leopard Gaming Laptop (10SCXR-032XTR) that I bought 2 months ago. It was the first time I bought an MSI computer. I have used laptops of Samsung, Asus and Lenovo brands before. I bought this laptop for both software works and gaming. The laptop was delivered to me 3 days after I ordered it from Hepsiburada.com. Its package was very high quality and strong.
I unpacked the laptop, started it, installed Windows 10 and have been using it for about 2 months. Here are my experiences;
First of all, a 10 GB partition called DriverCD was reserved from the 250GB SSD in the laptop and all required drivers and softwares for the laptop are included in it. After installing Windows 10, I easily installed all the necessary drivers and software with one click.
The sounds are much better with built-in Nahimic software. I'm able to adjust the sound with different sound modes such as game, music, movie.
The cooling system is really excellent, after activating the turbo fan mode by pressing the fan button on the laptop, the temperature does not exceed 70-80 degrees in most games. The fans are more noisy than usual, but as long as the laptop is not getting too hot, the noise is not a problem for me because I am using headphones.
The material used in the case looks very good quality. The screen leaks a little too much light from some corners, I can say that this is the only minus of the laptop, but it's not a big problem because it only appears when the screen is black.
The Steelseries keyboard is very comfortable and quiet. Keyboard illumination is solid red. I can adjust the brightness of the lights in 3 levels.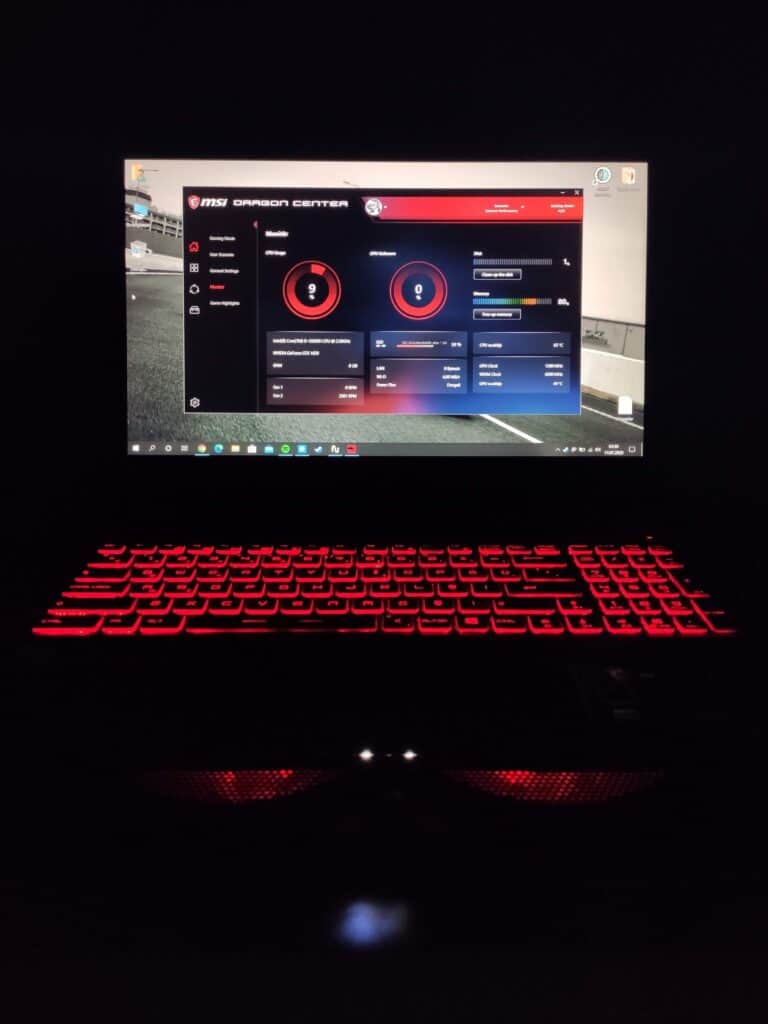 A few days after I received the laptop, I disassembled it and installed Samsung 860 QVO 1 TB SATA 3 SSD and Samsung 8 GB DDR4 CL19 RAM. As someone who has done laptop maintenance / repair many times before, I had a little hard time not to break the small plastics on the sides of the case that hold the case together while disassembling this laptop, but thanks to a few tools I have, I removed the case without breaking it. If you do not have enough tools and you have never disassembled a laptop before, I do not recommend disassembling this laptop yourself, you may damage the bottom case.
After the RAM and SSD upgrades, I installed many games with a total size of about 800 GB in the laptop. I had no problems with any game, I played at high settings with high FPS values. For example, I get 70 FPS at ultra settings in the Forza Horizon 4 game. In the newly released Microsoft Flight Simulator, I get an average of 40-50 FPS with medium graphics settings. (This FPS value is fine because the graphics of the game are high quality and the size is very high.)
Lastly, before I bought this laptop, I was indecisive between laptops from other brands like Asus and Lenovo. But MSI is better than other brands in terms of software quality, material quality, cooling system and industry recognition. Also, because MSI products maintain their value in our country, if I need to sell my computer in the future, I can sell it at a good price. Long story short, MSI has done an excellent job on this computer. I was very pleased with 2 months of use, I recommend it to everyone.